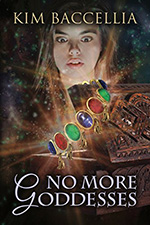 No More Goddesses
When fifteen-year-old Jordan Lake discovers an ancient bracelet in her grandmother's house, she uncovers a family mystery that links her favorite actress, Audrey Hepburn, a romantic movie, and an aunt she never knew. Jordan hopes the bracelet will bring her love. Instead, it becomes a nightmare, unleashing the curse of Hathor, the Egyptian love goddess, who decides it's fun to mess with the McKnight High School social scene. Only Jordan holds the key to vanquish Hathor, but will she figure it out in time to save her school and get a date to the dance?
Click here to watch the trailer!
Check out Goddesses Can Wait, the second book in the series!
Reviews
"The storyline is interesting. I always love to learn a little more about mythological characters and ancient civilizations. This book had a little of both in it. I also loved the underlying theme of being careful what you wish for. Jordan is not thrilled with some of the consequences. This is a cute and fun book to read. The Goddess in the book is a love Goddess and content reflects her position in Egyptian mythology. There is some swearing and description of Egyptian modesty issues (which is historically correct)." - Bookworm Lisa

"This is such a fun read and very suitable for even the youngest teens and more mature pre-teens. Jordan shows that a girl can be true to herself while still having adventure and learns that the most important things in life are friends and family. This is a fresh take on the paranormal adventures so common in YA stories and I am so glad that it is something I can recommend to even pre-teens. There is just enough tension and mystery to keep you reading through while also providing a lesson on growing up. If you like the Magic in Manhattan series by Sarah Mlynowski or the Dead Is series by Marlene Perez, you will enjoy this one as well!" - Bookhounds

"This was an awesome story that once I started reading, I could not put it down. It moved along at a good pace and had a storyline and characters that kept me entertained for an entire evening, and I could not believe it when I was finished. This book is definitely worth checking out. An awesome read." - Joy Whitesides

"It was fun and will appeal to a lot of readers, especially the younger YA set. If you're looking for a cute story with high-school antics and a heavy dose of paranormal laced with mythology, No More Goddesses by Kim Baccellia is right up your alley." - Swoony Boys

"Love the books that tease me with what could happen and then everything changes. What I love about this book is the mystery and the unknown, very exciting book. Giving the book an overall 3 out 5 stars. The book has a little bit of everything in the story, and the adventure that carries us through they are very good." - Luana Sirbu Blogger

"Very teen, and a refreshing respite from those heavier doom 'n' gloom books." - Reflected Light Reviews

"This was an interesting story with a unique plot. It's aimed for younger teen readers and the writing style shows this. The story was intriguing and I enjoyed learning about the Egyptian mythology that was woven into the book." - A Dream Within A Dream





August 2nd: Kai Strand
August 5th: Fade Into Fantasy
August 7th: Sizzling Hot YA Books
August 8th: JeanzBookReadNReview
August 9th: BookHounds
August 12th: Bookworm Lisa
August 14th: Joy Whiteside
August 15th: Books Are My Life
August 19th: Swoony Boys Podcast
August 21st: Books Are My Life
August 23rd: Winged Reviews
August 26th: The Cover Contessa
August 28th: Refracted Light Reviews
August 30th: A Dream Within a Dream
Bonus: Check out AudreyHepburn.org