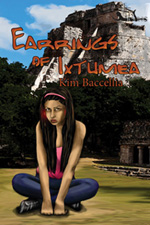 Earrings of Ixtumea
Fourteen-year-old Lupe Hernandez dismisses the legend about her Mexican grandmother's magical earrings as a silly fairytale, despite recurring nightmares of human sacrifice. But when the earrings thrust her into the parallel world of Ixtumea, she must confront the very thing she shuns the most -- her cultural heritage.
Lupe's journey takes her through a dense Mayan jungle to the damp underground kingdom of Malvado, where a rebel leader plots to keep her from fulfilling her destiny. She is guided by a hot warrior protector named Teancum, who tells her about a prophecy of a long-awaited young prophetess - which happens to be Lupe. She trains with the Spider Goddess, who teaches her the sacred knots that bind both worlds together, and she meets her long-lost mother, Concha, who is now a dangerous enemy. Life as Lupe knows it will never be the same!
You may now download Earrings of Ixtumea for free! Click here to download the PDF.
Trailer
If you don't see a video player above, please click here to watch the trailer.
Reviews
"Dream balances nightmare as Lupe makes a spiritual journey, comes face to face with living gods, and learns the truth about her parents, her own origins, and her destiny. Author Kim Baccellia uses Lupe's spiritual journey to frame some profound thoughts about our view of physical perfection (and how a Latina copes in a blonde world) and how traditional beliefs integrate with those of a faith like Catholicism. (When you're being threatened by Tezcatlipoca, do you pray to the Virgin of Guadalupe or to Ixchel?) Though herself a Mormon, Baccellia seems to have a good grasp of Latin Catholic sensibilities. In a genre market (fantasy) that is dominated by Celtic mythology and heroes drawn from a northern/western European aesthetic, a book featuring a young Latina heroine and a culture drawn from Native Central American and Hispanic influences is a welcome change." - Midwest Book Review
"I highly recommend this book for Latinos and gringos alike... it is an enjoyable read and would be a good addition to anyone's library. Its energy is similar to The Lion, the Witch, and the Wardrobe by C.S. Lewis. However, it is not a re-write of it by any means. It is a substantial work on its own. This book (also available as an e-book) is an excellent find and I for one would love to see a sequel from this promising author." - Thunder Child Review
"The use of Latino folk tales and culture was refreshing and gave a new twist to a familiar tale. The most well-developed character was Lupe's mother, whose inner struggle between serving the man she loves and saving her daughter was intriguing..." - Writer's Post Journal
"This is a fast-paced, easy read that will not only carry you to a fantasy land, but give you some insight into one of the fastest rising immigrant cultures in the United States. Classic themes are recombined and made new in this miniature saga." Huntress Reviews, three star review ***
"I just wanted to tell you that I recently purchased your book on Virtual Tales and I am very impressed. I am also Latina and a former ESL teacher (currently a fourth grade teacher) in Huntington Beach, CA. I love your details and it is great to find literature that my students can relate to." - Temple Salas-Yoshii
"Kim Baccellia does a good job combining two very different worlds in her book, Earrings of Ixtumea. This book is great for anyone 17 years and younger!" - By The Book Reviews
"Lupe, the protagonist of Earrings of Ixtumea, is a smart and sassy fourteen year old living in two worlds, that of her mystical grandmother whose stories are rooted in pre-Columbian folklore and in modern day Anglocized America. The earrings her grandmother gives her, ones she does not want to take, send her on a dangerous journey to the land of Ixtumea where she must learn to accept her role as an orucula to save this world, and ours, from destruction. The story is fast paced, with wonderfully drawn characters, a book that could be a gateway for teenagers to read more fantasy." - Alethea Eason, author of Hungry, HarperCollins 2007
"A very fun book with a spunky main character, Lupe. I enjoyed the way this author takes us to another world, and the great imagery she uses. I especially liked Lupe, whose teenage voice is perfect for this YA fantasy. At no inclination of her own, Lupe is swept from modern-day life into that of her heritage. The world of Ixtumea is filled with intrigue, danger, and it is where Lupe learns of her destiny. Kudos to this author for a fun, imaginative book with a rich setting and an interesting plot." - Mary Beth Kelsey, author of Tracking Daddy Down, Greenwillow 2008