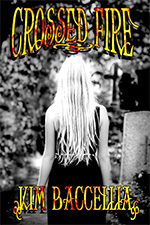 Crossed Fire
Stephanie Stewart is a typical sixteen-year-old girl - she loves hanging out with her friends, going to concerts, and sipping mocha lattes. Yup. Just your average teenager . . . Except for one difference - she can see and talk to the dead. In fact, Stephanie helps dead girls who've been murdered or killed, cross over.

Just as Stephanie is getting used to her unique gift, her mom stumbles into some dangerous witchcraft that backfires and triggers similar abilities in Stephanie's best friend Cura and nemesis Hillary.
Stephanie already has enough trouble trying to maintain a normal life between school and her cute boyfriend Dylan, who happens to have a supernatural talent all his own. But now she has to help her friend Cura and her frenemy Hillary cope with their newfound powers as well as cross over two murdered cheerleaders and battle an evil demon who wants to use Stephanie's supernatural strengths as a free pass to The Other Side. And she needs to do it all while still getting her term papers in on time.
She's definitely going to need an extra-large mocha latte for this.
Click here to watch the trailer!
Check out Crossed Out, the first book in the series!
Reviews
"Fresh, lovely, and captivating. I loved the characters, their witty humour, and the engrossing plot. A 4-star read. I can't wait to read more from the author." - BookLove

"This book was fun and easy to read. Stephanie has a unique gift that she is finally coming to grips with. She feels like an outsider at school but does have a few close chums who usually have her back. I liked that the book is told from Steph's point of view. We get to feel what she feels as the story progresses. I really enjoyed this book and I do want to catch the next installment of this quirky series." - Laurie


"The writing style is fluid, well developed, and at a steady pace. The storyline is quite creative and imaginative – and it totally works! I think the character's personalities and the fact that they act like real teenagers really sells it." - Ally Swanson

"Crossed Fire by Kim Baccellia is a young adult paranormal story that is part of the Crossed series. Young Stephanie Stewart has the ability to not only see ghosts of murdered girls, but has learned to help them cross over. Her hunky boyfriend, Dylan, sees auras, but not without paying a price, and not only her BFF but her major frenemy also get involved in the weird and wonderful world she's become a part of. The unexpected interference by her mom and others in an ill-fated sorority leads to unpalatable discoveries as well as temptations that may change the world, and not for the better." - E.

"I really enjoyed the back and forth in this book and the plotline... I can't wait to go back and read the first book to get a better idea of what went on and how Stephanie started on this path. I could so see it as a TV show and hope Ms. Baccellia has more plans for this group. I'll be looking for future books!" - LAS reviewer
Blog Tour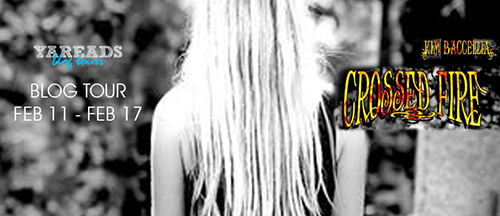 Follow the Crossed Fire blog tour:
Hello Book Lover
BookLove
Shannon Muir